Training Courses
CTP - Contract Training Modules

---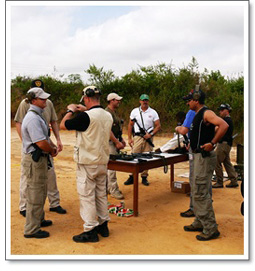 Since its establishment in 1986, ISA Academy® has provided authentic and up to date readiness training including tactical handgun and rifle, close protection, diplomatic security, and complete strategic competence enhancement solutions for government and commercial clients globally.
ISA Academy® offers one of the most comprehensive, authentic and up to date tailor-made training programs available on the market today. ISA Academy's course curriculum is currently covering more than 40 different security related training modules. Each CTP course is tailor-made towards the exact needs and unique work situation of the customer. The CTP Training Courses can be conducted either onsite, or at clients location through our mobile instructor team.
The CTP courses are only available per contract to government, UN, law enforcement, commercial and organizational customers and are not open to individual applicants! Individual applicants are encouraged to review the information available on our internationally scheduled BTP Close Protection Courses.
Top list of our most popular tailor-made CTP Training Courses.

PERSONAL SECURITY:
Executive Protection Training
Advance Reconnaissance Course
Diplomatic Protection Training
Risk Level 1, 2 and 3 - Security Adviser
High Risk Contained Escort Training
Tactical Medical Emergency Service
TEMS Training
Personal Security Detail (PSD)
IED / Explosives Detection
Force Escalation Ladder
SECURITY MANAGEMENT:
Operations Planning
Security Manager-Commander
Tactical Critical Thinking-Commander
Tactical Risk Management-Commander
Tasking and Project Management

BUILDING AND AREA SECURITY:
Perimeter and Permanent Area Security
Hotel Security Training Course
Estate and Perimeter Security Training
Public Building and Complex Security
Entrance Checkpoint Security
Explosives Awareness & Prevention
Car Bomb Prevention
Key Installation Protection Course
TRANSPORT SECURITY:
Tactical Defensive Driving Course
Tactical Offensive Driving Course
Vehicle IED Detection
High Risk (Level 3) - Road Checkpoint
High Risk (Level 3) - Vehicle Search
Convoy Protective Escort Training
Convoy Counter Assault Team Training
K-9 TRAINING COURSES:
Perimeter Patrol Dog Training
Search and Tracker Dog Training
Sentential Dog Training Course
I.E.D. Detection Dog Training
Mine Search Dog Training
Weapon Indication Dog Training
Narcotics Detection
SURVEILLANCE TRAINING:
Covert Surveillance Course
Electronic Surveillance Course
Information and Communication
TACTICAL FIREARMS :
STSC Tactical Handgun Course (*
STSC Tactical SMG/AR Course (*
STSC CQB Training (*
Urban Sniper Training Course (*
In addition to these, we also have the ability to create unique tailor-made training modules to customer specifications as contract training. If you do not find what you are looking for in the above list, do not hesitate to contact us with your inquiries.